Hiragana Master Drill
Introduction
Free online study program for learning how to read, write and type the Japanese Hiragana alphabet.
Three Types of Flash Card Programs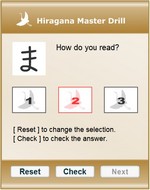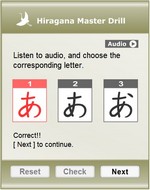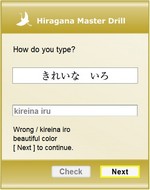 3 types of random-order drill programs for effortless, quick memorization.
Each drill trains specific ability - reading, character recognition and typing.
Different voices (male, female, robot, etc.) are used to improve flexible listening ability.
Comprehensive Instructions
Detailed instructions on pronunciation, handwriting and text input.
Stroke order animation displays how the character is drawn and pronounced.
Click button to see the sample animation with audio.
Printable writing practice sheets with grid lines (PDF) are available.


Contents
Each part takes 15-60 minutes.

Before You Start...
It is recommended to read the following pages briefly.
Hiragana - introduction of Hiragana character
Learning Tips - useful information on how to learn Japanese